Description
€ 40.00
Expert CBD Salve
Enrich your body with our all natural phytocannabinoid-rich broad spectrum Expert CBD Salve.
Made from a magical blend of 100 % natural and organic ingredients, the Expert CBD Salve is uniquely crafted to provide targeted pain relief and fresh, hydrating skin.
Expert CBD Salve is approved for all skin types and can be directly applied to the skin providing immediate relief to the affected areas.
Using CBD topically has been known to deliver a soothing effect to a wide variety of skin related issues such as eczema, psoriasis, rashes, skin irritation and can also work wonders for reducing inflammation and body aches caused by conditions such as arthritis.
Why Expert CBD?
All of the plants for our phytocannabinoid rich (PCR) products are grown in the U.S.A. using 100 % organic farming practices, and are cultivated with naturally developed genetic strains of industrial hemp. Our sustainable farming practices applied with contemporary technology ensures you get the highest quality CBD that is free of THC, any solvents,heavy metals, pesticides and is also Non-GMO, Kosher and Halal certified.
A rigorous testing scheme using chromatography and 3rd party testing is followed to ensure that the critical attributes of taste, color, potency, and purity consistently meet quality control specifications. All our test reports can be viewed here.
Alternative methods of taking CBD:
We take all your needs into consideration and our CBD products are available in several different forms thereby allowing you to tailor your method of use to your specific needs.
For alternate ways of using CBD take a look at our Oil, Capsules, and E-liquids.
Our products are designed to have zero THC, hence produce absolutely no psychoactive effects which means they cannot get you 'high', or cause any side effects associated with THC.
This allows us to ship our products across state lines and to dozens of countries around the world. Enjoy the best nature has to offer wherever you are!
At Expert CBD, we are proud to be your most reliable and consistent source of CBD products.
Recommended Use for Expert CBD Salve:
Apply generously and massage the affected area until thoroughly absorbed in skin. Repeat process 1-3 times a day.
Dosage for Expert CBD Salve:
Everyone's CBD journey is different and as we all differ in body and mind, and hence there is no optimal dosing for CBD that will work for everyone.
Generally, a great place to start is low and then increase amount of application if required to achieve the desired effect.
Storage Instruction:
Keep at room temperature to preserve freshness. Store away from humidity, heat, and light. Keep out of the reach of children.
Summary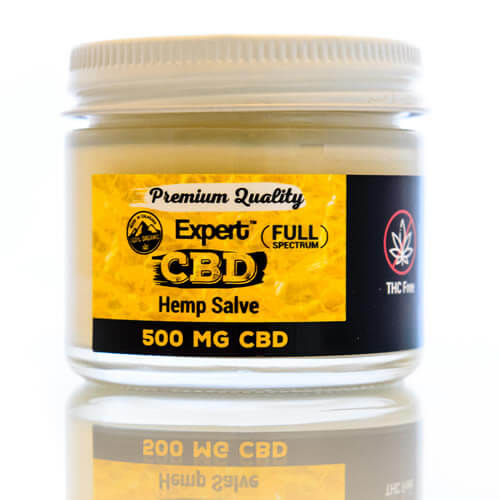 Author Rating
Brand Name
Product Name
Price
Product Availability